Certification of products for export to China
China Compulsory Certification (CCC)

103 types of products are subject to mandatory certification, depending on:
– Declared HS tariff code (HS code – 6 digits, nearly always coincides with the HS codes of the EAEU in the first 6 digits);
– Products specification.
1) Confirmation of conformity with the issuance of CCC certificate by an authority (13 categories, 84 types of products)
Application Submission + Type Testing + Production Audit (Initial + Annual)
Electrical wires and cables
Circuit breakers, electrical devices for protection or connection
Household and similar electrical appliances
Electronic security products and accessories
Lighting fixtures
Automobile and accessories for providing security
Agricultural machinery
Fire-fighting equipment
Products for providing safety and security
Building materials
Children's products
Explosion-proof electrical equipment (ATEX)
Household gas appliances
2) Confirmation of conformity with the issuance of declaration (7 categories, 9 types of products)
Application Submission + Type Testing + Declaration (10 years)
Circuit breakers, electrical devices for connection protection
Low voltage electrical apparatus
Low power motors
Electric tools
Welding machines
Compressor
Automotive and security accessories
Mark Certification (CQC)

The facultative certification covers 49 categories, more than 500 types of products if the goods are not subject to mandatory CCC certification.
Benefits: demonstration of product compliance with Chinese standards; facilitation of customs clearance in China. For products that are not covered by CCC certification, CQC mark certification ensures that the product meets quality, safety, environmental and performance standards. Its certification process is almost identical to the CCC certification process.
1. Textiles, footwear and labor protection means
2. ROHS
3. Paper products
4. Adjuvants and insecticides
5. Coatings and adhesives
6. Plastic and rubber products
7. Soap and cleaning products
8. Building and finishing materials
9. Non-electric heating equipment
10. Valve ventilator and heat exchanger device
11. Pumps and compressors
12. Air conditioning systems and heat pumps
13. Equipment for liquid and gas purification.
14. General machines and accessories
15. Electric tools and accessories
18. Electronic equipment
19. Pollution Control Equipment
20. Computer and information equipment
21. Audio, video and similar electronic devices
22. Motors, generators, and accessories
The certification process for CCC/CQC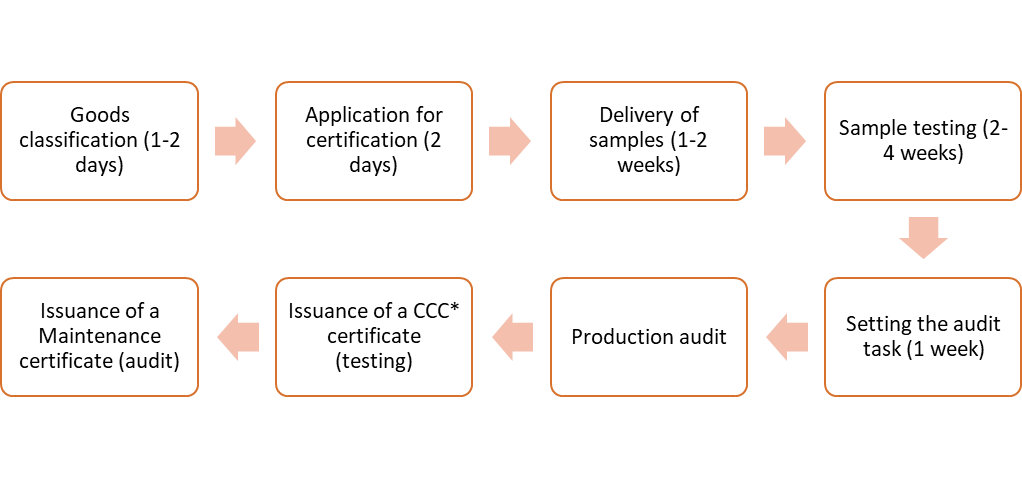 * CCC may be issued before the audit, depending on the product.
Certification expenditures consist of:
Application, approval, and registration fee
Type tests (laboratory)
Production audit (initial + annual)
Annual certification fee
Information required to submit application:
Goods description
List of main components and materials
Product drawings: general assembly drawings, wiring diagrams, etc.
Product manuals in Chinese
Nameplate in Chinese
Factory audit checklist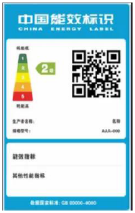 China Energy Label
Compulsory certification covers 37 product categories (refrigeration, air conditioning, household appliances, office electronics, lighting, industrial and other areas).
The Energy Efficiency Label is an informational label attached to an energy-consuming product or its smallest packaging that indicates the energy efficiency rating of the product.
(Household air conditioners with fixed frequency or inverter; Household/commercial gas heaters; AC electric fans; Washing machines; Household refrigerators, etc.)

License for special equipment production
Compulsory certification is required for such products as boilers, pressure vessels, safety components, gas cylinders, pressure piping components, elevators, passenger cable ways, etc.
The SELO license is also known as the China Special Equipment Manufacturing License (the license is issued for the production, the products produced must also be certified). The production must be approved, the China Special Equipment Licensing Authority of China issues the SELO license.
The procedure lasts about 10 months.
Food products
An Inspection and Quarantine Certificate of Entry Goods is required
Stages:
I. Electronic registration of exporters on the website of the General Administration of Customs (GTU) of China http://ire.customs.gov.cn, which must be carried out before the export delivery of goods.
II. Registration in the local office of the GTU. A foreign supplier-manufacturer of food products is registered in advance with the local office of the GTU of the PRC at the location of the checkpoint through which it is planned to import these food products.
III. Label development. This is an obligatory stage in the admission of products to the PRC market and ensures the protection of the rights of an ordinary consumer who, when buying food products in the PRC, may require the seller to comply with the requirements of the law of the PRC.
IV. Providing a set of documents and registration dossier. For the primary import of products packaged for retail sale, a registration dossier is opened in advance of the actual delivery of the goods at the border division of the State Customs Committee for Inspection and Quarantine (10-15 working days). In this case, the importer (independently or through a customs broker) must provide certain information and documents.
V. Checking the compliance of products and packaging with state standards of the PRC.
VI. Preliminary provision of product samples. In advance of the actual export of the goods, it is necessary to provide (independently or through a customs broker) samples of the goods to the Entry-Exit Inspection and Quarantine Of The People's Republic Of China ( at the relevant border checkpoint, which within three weeks (sometimes less) carries out certification and issues a preliminary quarantine permit.
VII. Checking the goods and packaging upon their arrival in China
VIII. Issuance of a quarantine permit.
IX. Payment of customs duties, checking invoices and packing lists.
X. Obtaining a quarantine and inspection certificate for the import of products (Inspection and Quarantine Certificate of Entry Goods/入境货物检验检疫证明) .
XI. Certification. There is a list of goods subject to mandatory certification In China. It is the responsibility of the importer to certify the relevant products, but the exporter may, at will, obtain this additional certification in cooperation with the importer.
The regulation period for passing the certification procedure is 90 days from the date of application.